'When influencers suddenly post the same product – somewhat very casually – you have to be careful' says Dutch journalist Loes Reijmer in De Volkskrant. Then the company behind the product decided to catch you as their target group. 'Influencers', Instagrammers, lifestyle bloggers or beauty vloggers are a recent example of commercial influenced mediamakers.
Businesses and organizations try more and more to exert greater control over cultural industries, Lampel et al. explain (2011: 267). I don't want to argue that Instagram influencers and vloggers are biggest and most sublime mediamakers of the cultural industry, but they are the example in which you can see the commercial influence most. In some cases, it is almost as if the famous Instagrammers want to test us. As if they want to play a game of 'four of a kind' with us. Gotta catch 'em all?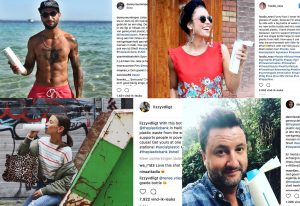 When it comes to the question of creating or selling, Lampel et al argue that cultural firms must keep the polarities in mind: if firms pursue the goal of mass entertainment, they should not lose sight of artistic values. If artistic values dominate, commercial survival cannot be ignored.
In my opinion, most Instagram influences lost their sight of artistic values and only pursue commercial entertainment. But not all hope is lost. I follow some feminist body-activists. They – for example – are the creative satirical influencers Instagram needs more to achieve that ambiguity.
– Lotje van den Dungen –
References:
Lampel, J., Lant, T. & Shamsie, J. (2011), 'Balancing act: learning from organizing practices in cultural industries', Organization Science (vol. 11.3): 263-269.