Last week, five American cities lost a source of local news (again). DNAinfo and the Gothamist were shut down by CEO Joe Ricketts after newsroom staff voted to unionize. While the owner's personal interests played a huge part, both platforms hardly made any profits. On CityLab, former LAist editor-in-Chief Julia Wick wrote how the shutdown "effectively amounts to a silencing" that adds to the lack of critical, local information; creating a democratic shortage. But how do we guard other local newsrooms against a similar quick death?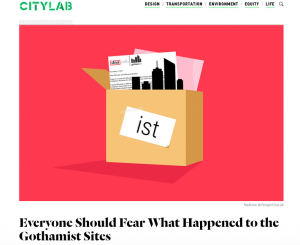 A few days later, the Columbia Journalism Review published an article called "8 strategies to save local newsrooms". Ali and Radcliffe emphasize the importance of original, local news stories and "owning the master narrative of the community". Based on 53 interviews with industry seniors, their article suggests a narrow focus on topics that align with the community's most pressing concerns. Most of these editors argued a specified use of audience metrics can help determine the affairs that will connect readers to your platform.
According to Tandoc Jr. and Thomas, such an emphasis on audience metrics actually taunts the journalist's role of public watchdog. (Tandoc Jr. and Thomas, 244) While their article argues journalism needs to facilitate "a culture that encourages dialogue", they suggest only journalists should bring topics to the table. (245) To Tandoc Jr. and Thomas, journalists can only fulfill their communal part by supplying what the audience needs, instead of what it wants.
This attitude is not just condescending to the intelligence of the audience, but also oblivious to the various ways in which data can be implemented. As explained by the Columbia Journalism Review, data can improve user experience and storytelling techniques, while a critical and selective use can prevent the growth of celebrity news and cat stories that Tandoc Jr. and Thomas fear.
Words: 296
Bibliography
Tandoc, Edson C., and Ryan J. Thomas. "The Ethics of Web Analytics." Digital Journalism 3.2 (2015): 243– 258. Taylor and Francis+NEJM. Web.