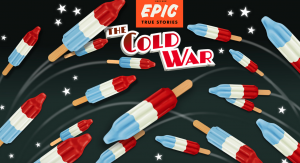 Delivering non-fiction stories as an exciting film script; Epic Magazine turns long narrative journalism into a rollercoaster ride and, perhaps even more important, a profitable business. Journalists Joshua Davis (Wired) and Joshua Bearman (This American Life) search for – almost unbelievably – weird stories and turn them into beautifully designed longreads. Yet, these "Epic True Stories" mainly focus on text, and hardly integrate any other media (except for photographs). So why is Epic Magazine such a success?
First; the stories live up to their promise. They are weird, touching and at times newsworthy. The titles include: "The Cold War" (about a local fight between icecream trucks) and "Arab Spring Break" (about a burn-out Wall Street banker who joins the freedom-fight in Libya) Second; they are incredibly well-written. They read like short novels. Often when reading a longread, I scroll to the end to see how long it will takes – even when it's interesting and well-written. Here, I didn't feel the need once. However, they are long – very long. I am curious about their statistics. Do people often complete them or not?
Have you seen "Argo" with Ben Affleck? Good. It's based on one of Bearman's stories. This is part of their business model (as they explain in this FastCompany article); selling their longreads as film scripts. And it's working. Eighteen of them have already been sold to Hollywood, which is not surprising; there has been a significant surge in "based on true events" movies. However, do they just make stories to sell them as movies? No. Not unlike Vice, they also approach possible sponsors and ask them if they would like to finance a certain story. It's kind of like a network selling its shows to advertisers before it has even started filming.
Does Epic Magazine represent the future of long narrative journalism? In her article, Bell argues that "good journalism has always been subsidized." I think Epic Magazine proves that this isn't necessarily true. Unlike Vice, Epic Magazine does not allow their sponsors to determine content. Instead, they approach sponsors with a story (and audience) that might fit with their brand. While any collaboration with advertisers is tricky, it's also necessary. As long as it doesn't intervene with the content, it's not that much different from an advertisement in the paper. And, after all – we cannot do it for free.
Bibliography
Bell, Emily (2007) "The Future: Journalism and Media as Post Industries". Tow Center for Digital Journalism.